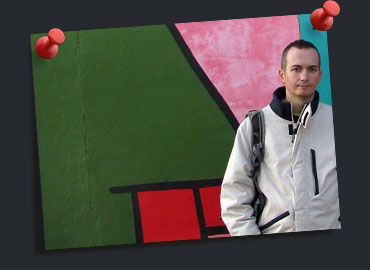 Profile
Self-motivated Graphic designer with 15+ years of experience in the field of graphic design, prepress and web design, from concept to finish. Well organized, with attention to detail, ability to work independently or as an integral part of a team and to cope with tight deadlines. Background in Fine Arts and love of photography. Broad experience gained while working in the marketing departments and design studios of several large companies in Europe.
CV
CV will be provided upon request, please contact me at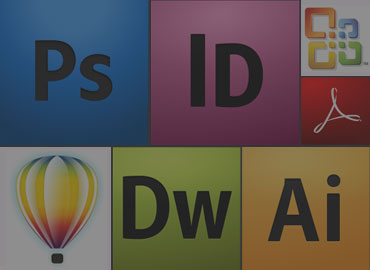 Software and other skills
• Broad experience in the field of layout design (books, magazines, newspapers, brochures, etc); Creation of marketing and sales materials (advertising, branding, posters, product catalogs, in-store graphics, etc); Vehicle graphics (wrap advertising); Large-format outdoor prints; Photo shoots (products, interiors, exteriors, etc), digital photo manipulation and retouching; Production coordination with printing companies; etc.
• Excellent knowledge of Adobe Photoshop, InDesign, Illustrator, Acrobat, as well as DXO Optics Pro, Luminar, QuarkXPress, Corel Draw, Microsoft Office suite
• WEB DESIGN: Experience with different online graphic design projects and web design (Adobe Dreamweaver)
• VIDEO AND AUDIO EDITING: Adobe Premiere, Adobe After Effects, Adobe Audition, Da Vinci Resolve
• Work experience on both Windows and Mac OS X Platforms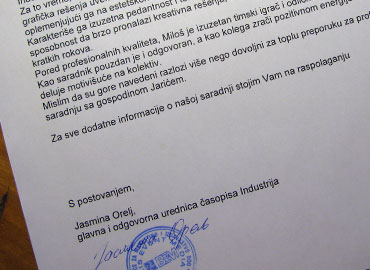 Client testimonials
"We had the honour to achieve exceptional collaboration with Mr Milos Jaric, who can only be described as a very creative, hard working and dedicated employee. He is characterized by extreme meticulousness and thoroughness during work, an extraordinary sense of color and the ability to quickly find creative solutions, even in stressful situations, under pressure and under tight deadlines. In addition to his professional qualities, Milos is an excellent team player, reliable and responsible. He spreads positive energy, joy and motivation to the team."

Jasmina Orelj
Editor-in-chief, Magazine `Industrija`